It's unusual for us to do a tour, unless its one we're hosting. In the past our only tours have been day tours, single sight tours or personally guided tours – and of course the tours we host with Two's a Crowd.
We did a tour in Tanzania, once, but as there were only three other people on the tour – a couple and their young adult daughter – we hardly think it counts. And in Kenya we basically designed our own tour. We contacted the Kenya Association of Tour Operators, told them what we wanted to do, they put it out to their members and just like that, we had our own personal guide.
But hosting our own tours with Two's a Crowd has given us a new appreciation of the value of tours. It could also be the fact that we're a bit, ahem, older now and like to be looked after sometimes when we're travelling.
Sometimes it's nice to just sit back and let someone else do all the worrying for you, to work out where you need to be when, what to do if things go wrong and to organise the tickets for all your day activities. At least, based on our experience as hosts, we imagine that's what it's like for guests on a tour.
It started when Ade saw a tour of China advertised through Webjet on the back of our local paper, an eight-day tour for just $999, including flights.
"You should do this," he said to me.
"Get Sam (you may remember her from my Myanmar travels) or your sister and just go, it's such a great deal."
And so it was that Julie and I ended up on a tour of China for 11 days – when we went to book, it turned out that for just $300 more we could stay an extra three days. We decided it was worth staying on.
Forever dubious when something seems like a deal that's too good (and with the words, if it seems too good to be true it probably is ringing in my ears) I checked out the itinerary and the accommodation before I left home. All appeared to be acceptable.
And if the websites were anything to go by, the accommodation was indeed, five-star.
I travelled through Uganda, where we volunteered at a primary school, and Cambodia with Julie so we weren't new to travelling together.
The two of us travel well and tend to get very excited when we travel together. She is a very excitable person, and that energy rubs off on me. So we hadn't even left Melbourne airport and we were finding giant coloured pandas – a promotion for China – to take selfies next to.
The first stop on our tour of China was Beijing where we joined hundreds of other Australian tourists all scrambling to figure which actual tour group we were in. There were about 50 of us in each group, ranging in age from early 20s to 70s, with most around the 50-65 age group. And at least five tour groups all travelling with the same company, all doing the same deal, or variations of that deal, as us.
Our first day was spent in a haze of jetlag and a determination to follow the correct tour guide. As you'd expect Beijing streets are crowded and locals aside the government is working hard to attract tourists from all around the world, adding to the already inflated population.
We walked through Tiananmen Square, wandered through the Forbidden City and the Temple of Heaven.
The pace was brisk, so we moved through the sites quickly, Jing our guide pointing out the main features as we passed. Normally I like to sit and absorb new cities, to take in the sights and sounds and to people watch.
But there was no time for that on this tour. That's not a bad thing, I'm not complaining. It's just that a tour like this gives you the opportunity to see the highlights in a condensed amount of time. You keep moving to see as much as you can quickly. But it does give you a good overview of a city, an opportunity to see which bits you like, which bits you'd like to come back to explore a little deeper.
Our stop in Beijing included the stunning Summer Palace, Beijing Zoo to see the pandas – can you say you've been to China if you haven't seen the pandas? – a stop at the Chinese Herbal Institute a tour through Hutong Village and of course a walk along the Great Wall.
We also stopped at a Cloisonne Factory and a Jade Exhibition where we resisted the temptation, and the strong sales tactics, to buy any local products.
From Beijing we moved on to Shanghai with stops in Suzhou, Hangzhou and Wuxi as well as the city of Shanghai.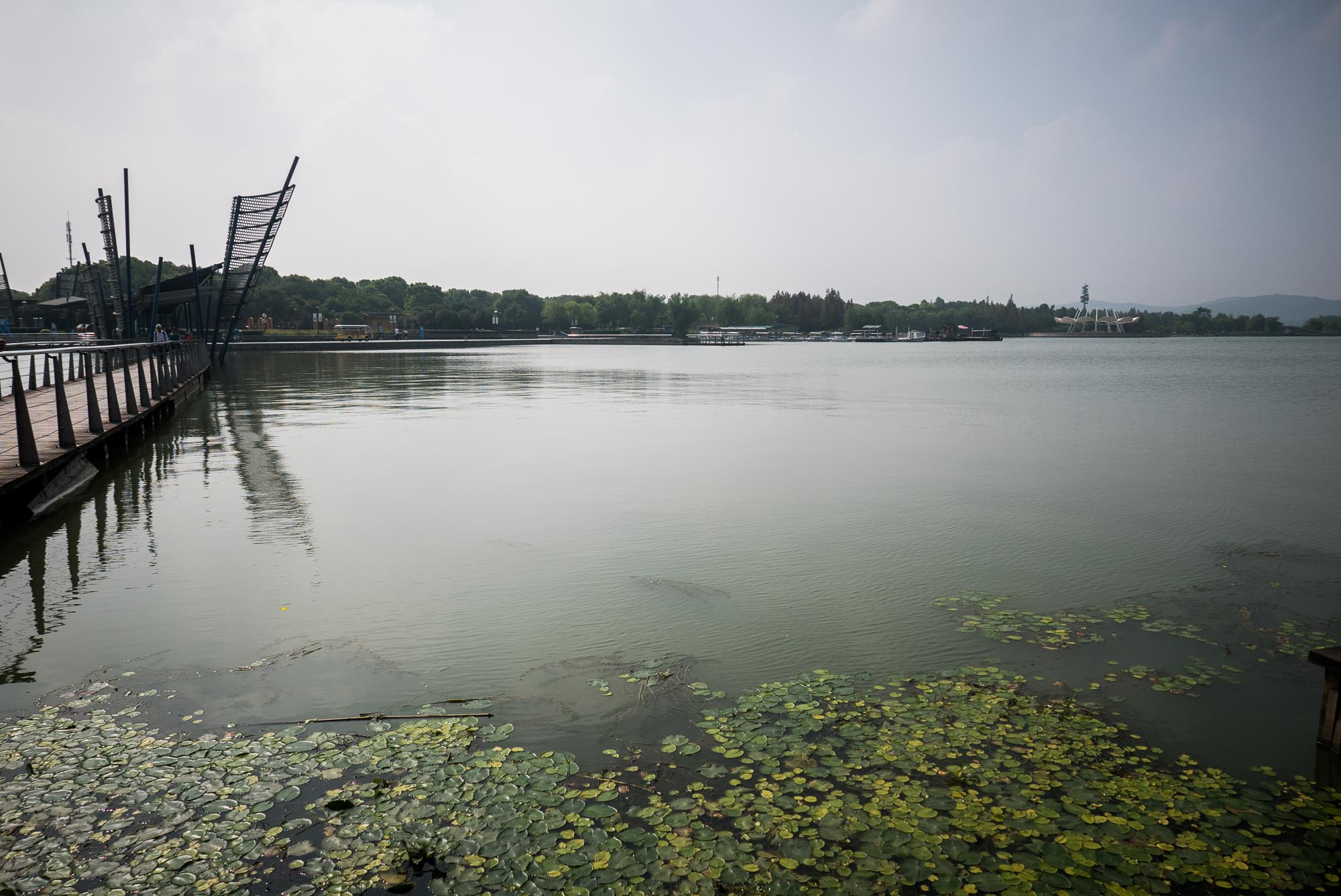 Our tour included a tea plantation, a river cruise, a visit to the Lingering Garden, a silk mill, relaxing on a boat on Lake Tai, a cruise along the Grand Canal and a walk along Nanchang Street.
It did not include a karaoke session and yet somehow Julie and I managed to find a venue. We dragged two of the younger women from our tour along with us and sang very badly at the tops of our voices.
We visited a fresh water Pearl exhibition, a market that sold just about every kind of "knock off" product you could think of, walked along the Bund, checked out the views of the sprawling city from the 88th floor of the Jin Mao Tower Observation Deck and checked out the City God Temple of Shanghai – but not so much for the temple as for the labyrinth of market stalls that surround it.
And we travelled on the Meglev Train, with speeds of up to 460km/h it's the fastest train in the world.
Eleven days in which we squeezed the highlights of Beijing and Shanghai. Eleven days of history, culture, information overload and fun.
We've often heard people say they wouldn't do a tour, that they much prefer to travel on their own, see things at their own pace, in their own way. And, truth be told, we used to say the same thing.
But it's such a shame. A tour is just a different way of travelling. You see and experience things that you probably wouldn't on your own. Some good, some bad. You get to meet new people and see travel through a myriad of eyes, not just your own – again, some good, some bad.
Our tour of China was exciting and interesting. There were aspects that we didn't like, and aspects that we loved, there were people who frustrated us, people who amused us and people who we found really interesting. But travel is like that.
However you choose to travel, it's always about making the most of the experiences before you, embracing the challenges along the way and appreciating the beauty around you.
Fast Facts
We booked our tour of China through Webjet. Check out their website for other awesome holiday packages.
We travelled through China for 11 days with Nexus Tours.
Was it long enough? No! It was a fabulous introduction to China, but there is still so much more we want to see, and I'd definitely go back to Shanghai and Hangzhou.
Highlights: The Great Wall, the 88 million trees in Hangzhou making it truly a green city, the Hutong Village tour, karaoke.
Join us on Facebook, Instagram and Twitter for more travel chatter.