This is the third in our series You've Been Where? In this series we turn the blog over to you to find out where you've been and what you thought. In this post we catch up with Jeremy Bannister who's had an amazing time travelling through Nepal – and yes, we're very jealous! Just look at those photos…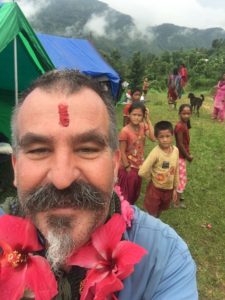 Who are you and what do you do for a living?
Jeremy Bannister, Professional Photographer
Where is home?
Ballarat, Victoria.
Where have you been? When did you go?
The most recent country I travelled to was Nepal in June/July this year. I travelled with Aussie Action Abroad, a Ballarat-based charity, to do some work in the local community.
What were the highlights?
The highlights were working directly with small, remote communities rebuilding housing and improving educational facilities in regional schools. Kathmandu is also an amazing city as it hasn't been destroyed by western influences.
What did you least like about your trip?
It sounds corny but I enjoyed everything about the country.
Do you have any funny stories from your travels?
It takes a few days to become used to the chaotic driving. We had a memorable trip back from the Gorkha Valley, I had just got mobile phone signal and was talking to the family describing how our bus was overtaking four trucks, on the wrong side of the road, on a tight winding mountain road – and no-one was particularly fussed. Unlike the west, the traffic somehow works.
What were the locals like?
The locals were extraordinarily friendly, welcoming and appreciative of the help we were providing
What was the food like?
The food was wonderful, especially the dal bhats and momos. The only average dishes were those that were too much influenced by western tastes!
Did you learn anything about yourself or the world on this trip?
Nepal is still suffering from the devastating earthquakes in April 2015 and it unfortunately feels like the world has forgotten about their plight.
Would you recommend others travel here?
Nepal should be on any adventurous traveller's list as it not only has extraordinary, beautiful scenery, it is challenging, exciting, surprising at every turn and inhabited by friendly, tolerant people.
Like so many third world countries you do have to be very careful to not drink the water and to be sensible about where you eat (most street food is fine). Be aware that it is a mainly Hindu and Buddhist country and make sure you observe and respect their customs.
Half the fun of travelling is to embrace the way other cultures live. Don't go expecting western-style fast food in Kathmandu it just doesn't exist. The Thamel district in Kathmandu is the best place to base yourself as it has a wonderful variety of shops, restaurants and café's, plenty of traditional architecture and most shopkeepers speak some English.
You can read more about Jeremy's trip to Nepal here.
Been somewhere recently and want to be featured on Allabroad.com.au? Drop us a line and tell us about your experiences.
Join @AllabroadAU on Twitter, Facebook and Instagram for more travel inspiration.