Never heard of Svalbard? Neither had we, so just had to find out more! Luckily for us, Narelle Cox has been and agreed to tell us all about it for our series 'You've Been Where?' And now we're adding The Arctic and polar bear viewing to our bucket list…
Who are you and what do you do for a living?
Hi, I'm Narelle and I caught the travel bug about 20 years ago, although trips these days are a bit closer to home with kids in tow…
I'm currently working in the insurance industry in an admin role.
Where is home?
I live in the outer eastern suburbs of Melbourne with my wonderful hubby, our kids, a cat, a rabbit, two turtles and a yabby.
Where have you been? When did you go?
I did an amazing trip to Svalbard in 2007. If you don't know where Svalbard is, go to the northern most part of Scandinavia, then keep heading north for about another 1000 kms – The Arctic.
I'd previously been to Alaska to see Brown bears and Black bears, but really wanted to see a Polar bear in its natural habitat. I'd researched Manitoba in Canada, and while some of the close-up encounters looked amazing, the noise of the tundra buggy generators really put me off. If I was going to see polar bears, I wanted it to be serene and peaceful, not with a generator blaring away….
Then I found Svalbard, where you could travel on ice breakers out to polar bear country, no loud generators to be found!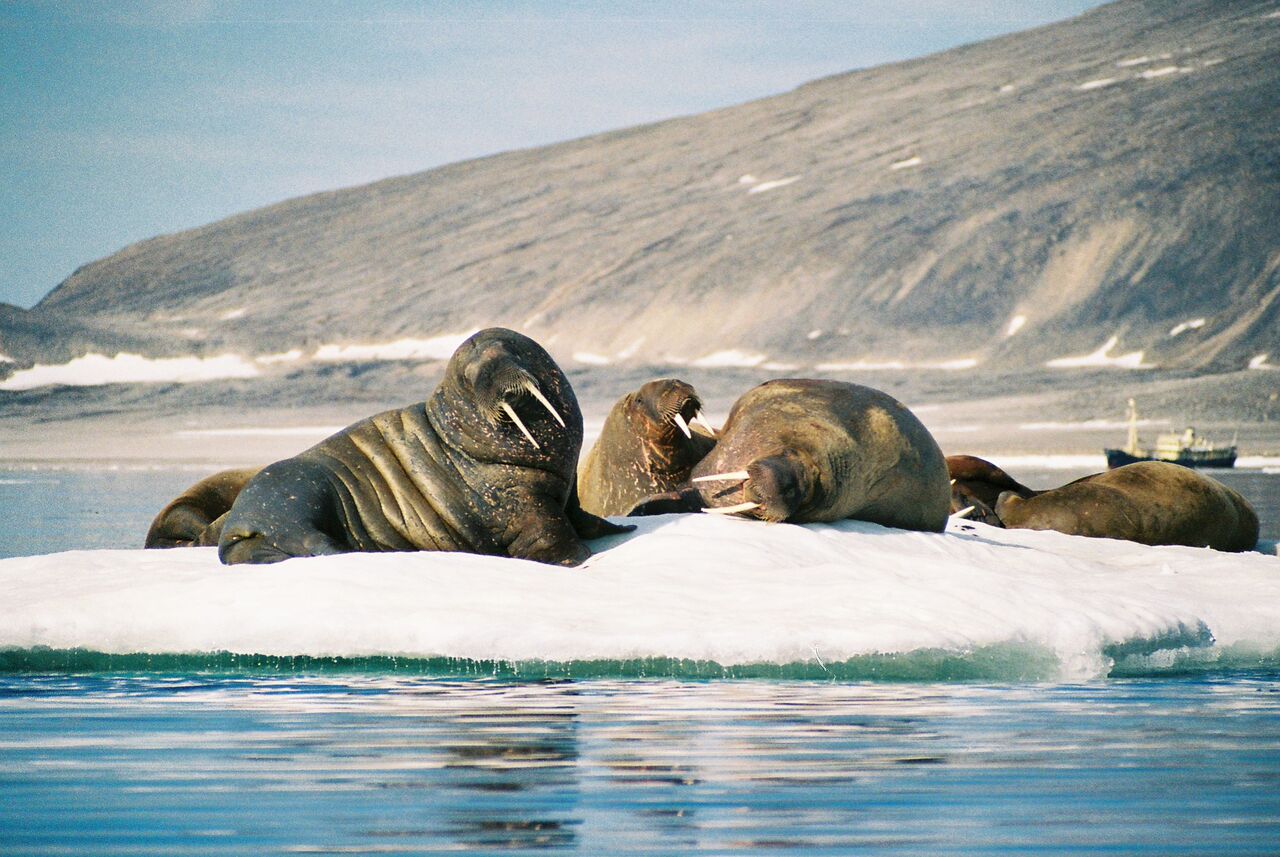 Who did you travel with?
I was travelling on my own, but as part of a Swedish tour company called Polar Quest, who specialise in small tour groups in that part of the world.
What were the highlights of your trip?
Seeing my polar bear! We were out on the zodiac (small rubber boats used to do landings on some of the smaller islands), when we spotted him. A huge male, eating a dead walrus. We actually got quite close and when a polar bear looks you in the eye, it's a day you never forget.
I was lucky enough to be at the front of the zodiac that day, which was amazing, until we got a bit too close and the polar bear thought he might have to share his walrus lunch…. He looked straight at me and gave a warning noise…. That was the moment I thought being at the front of the zodiac may not have been a good thing after all.
I found out later my fellow travellers had decided that if the bear charged us, they were more than happy to sacrifice the Aussie at the front of the boat….
Also, one of the great things about travelling in the Arctic is the midnight sun. It's never dark, so you actually get great value for money. Many of our trips out in the zodiacs didn't finish until 2am (and it still looked like the middle of the day!)
What did you least like about your trip?
When it ended. It really was the trip of a lifetime.
Do you have any funny stories from your travels?
The 24 hour daylight really starts to mess with you by about day three. It's almost like being drunk all day, all night. The silliest things seem hilarious. We discovered that when the Swedes on the trip pronounced the Arctic birds – Fulmar and Skua, they sounded just like Arnold Schwarzenegger…. That had us giggling for days. Hilarious in the Arctic, not so funny back home.
What were the locals like?
Well, there aren't many locals… but anyone who lives up there has to carry a gun in case they encounter a polar bear… so it's always best to be polite to the locals.
There is a scientific research base in Ny Alesund (100kms north of Longyearbyen, the main town). Full of mad scientists from all over the world. They have one bar in town, which has the windows blacked out, so you can pretend it's dark outside… and you have to take your boots off before you go in, so everyone dances around in their socks!
The day we arrived at Ny Alesund we were greeted by their brass band… couldn't hold a tune, but very enthusiastic. Again, I think the midnight sun gets to everyone…
What was the food like?
Most of our food was prepared by the ship chef. As it was a Swedish crew, we had a few Swedish specialities which were great, and reindeer one night, which was lovely (sorry Rudolph).
Did you learn anything about yourself or the world on this trip?
As a female travelling alone, my trip reminded me that if you want to do it, do it! Don't wait until someone else has saved the money, or until you have a partner to go with you. Just go. Do your research, book your trip and go.
A great trip is like a slow-release adrenalin rush!
And as for the world, I learned that polar bears are huge and aren't keen on sharing, I learned that walruses have really bad breath, I learned that walking on pack ice is scary and quite dangerous, and I learned that the Arctic is amazing.
Would you recommend others travel here?
If you have a passion for wildlife encounters, go for it! It's not the easiest or cheapest place to get to, but well worth it.
However, it's no luxury holiday. It can be tough going at times. Getting in and out of the zodiacs can be tricky if it's rough, you won't get much sleep and day trips last half the night.
Do you have any tips for people thinking of travelling here?
Take layers of thermals and prepare to go a bit troppo with the midnight sun and no sleep….but you'll love it!!
Been somewhere lately? We'd love to hear about it! Drop us a line below or send us an email allabroadau(@)Gmail.com
Join us on Instagram, Facebook and Twitter for more travel inspiration.