The beauty of New Zealand combined with the tranquility and zen of yoga, is it just us or does this sound like heaven? In the latest post in our You've Been Where series, guest writer Jacinta Cubis learns how to slow down and create some space on a yoga retreat in Napier. Ommmm…
Who are you and what do you do for a living?
Jacinta Cubis. I'm a freelance facilitator, engagement practitioner and partnership broker. Three fancy words to describe the deceptively simple job of helping organisations have conversations with their partners, communities and stakeholders. 'Facilitate' means to 'make easy' – make it easier for people to explore ideas, build on opportunities and work through problems.
Where is home?
The hidden gem of Clifton Hill, Melbourne. River and bushland, beautiful gardens, a quiet oasis that's a hop, skip and jump from Smith and Brunswick Streets. Walking distance from the city or a quick bike ride. Spoiled with public transport choices.
Where have you been? When did you go?
Napier, Hawke's Bay, New Zealand, for three weeks from Boxing Day to mid-January, 2018.
Who did you travel with?
My yoga buddy, Jane. Our fellas joined us for six days, about halfway through our yoga workshop. Our early morning yoga routine didn't seem to interfere that much with them having a mini-break. They seemed to get on well with our new yoga friends and were pleasantly surprised that they could share a glass of wine with a few. They passed on trying yoga though.
What were the highlights of your trip?
The intensive workshop over 16 days with Peter Sanson. He's a very compassionate Ashtanga Yoga teacher. I fluked getting a 7am spot in his very popular workshop. People came from Norway, Austria, Alaska, Chicago, Japan, Taiwan, Spain to work with him. Anyone visiting Napier with an interest in yoga should look him up. He's world renowned and now I know why.
Napier's architecture – both the celebrated art deco buildings and the white-weatherboard mansions and laneways on Bluff Hill. When you're looking at the art deco, look up, above the shopfronts and go inside any building you can – even if it's being used by banks or businesses. That was often the best part of immersing yourself in the architecture. And great to see that these buildings remain practical for today's working environment.
Riding everywhere – through the centre of the 'city' early in the morning to the yoga studio, to 34 km round trips along smooth sandy tracks past apple orchards, cows and rivers.
The wine! The farmers markets! The op shops! Napier seems to have the best op shops. I'm loving my b/w polka dotted pants.
What did you least like about your trip?
The unseasonably icy wind and cold temperatures of our first four days. Napier locals were as shocked as we were. It didn't last and I guess it gave me a taste of what winter would be like, if and when I come back for a yoga workshop at that time of year.
I was a bit disappointed that I couldn't really swim off Napier's main beach. The water is such a beautiful colour. It looks like the effects of the earthquake still resonate. The waves are really 'bitey' most of the time – you'd get dumped. So I dipped into the water after the port with everyone else. Nice to get wet, but you have to get out of Napier if you want a real beach experience.
Do you have any funny stories from your travels?
Plenty, but 'you had to be there'.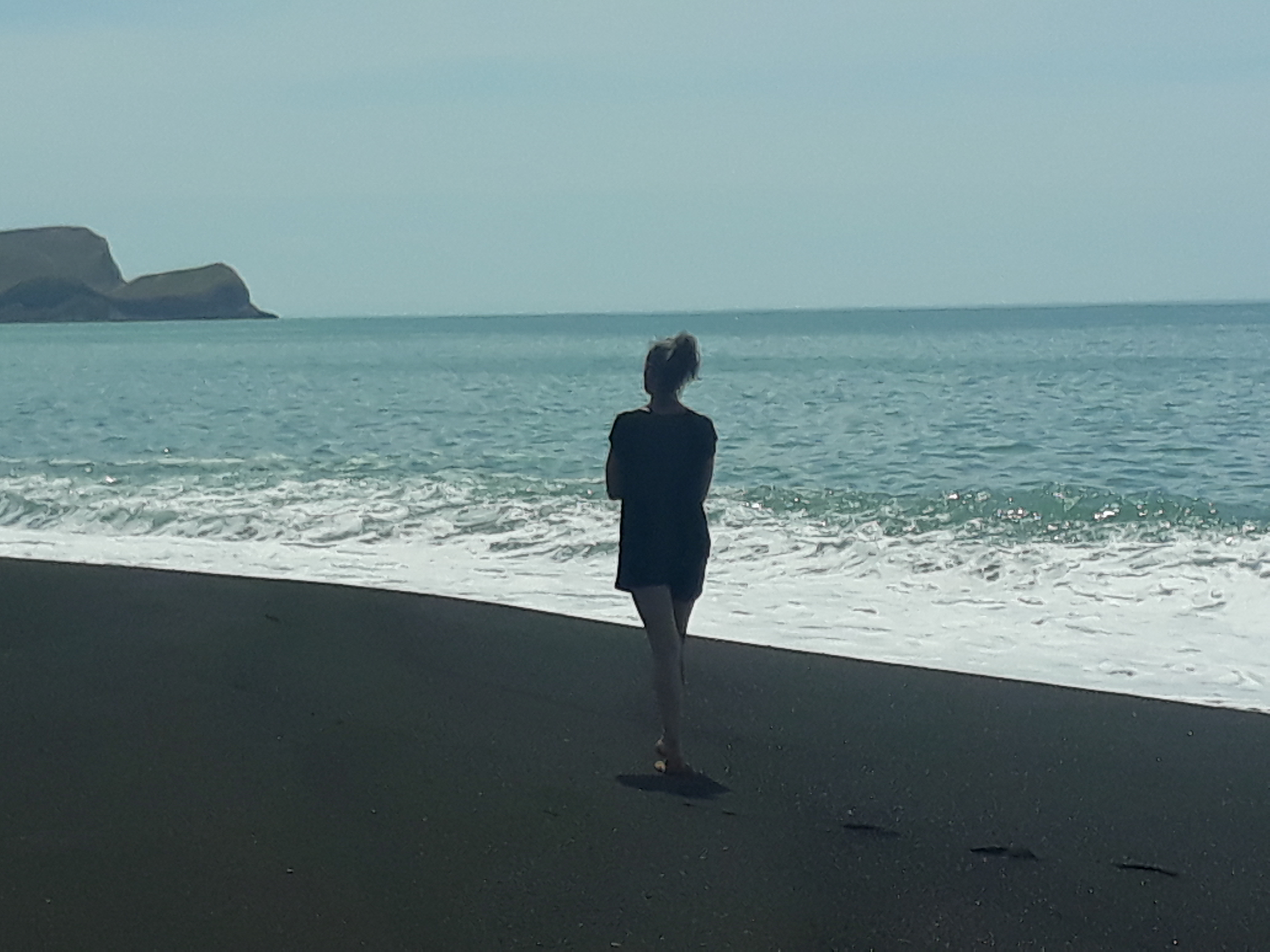 What were the locals like?
Friendly! Relaxed. Content.
I guess the friendliness comes with staying in one place over three weeks. You do get to know the baristas. But from day one, the workers who cleaned the streets every morning were up for a chat, especially the woman with the red ear muffs. And the kind woman at the recycle shop who offered to give Jane's mum something warm to wear until her baggage turned up (it never did).
What was the food like?
Delicious fresh seasonal fruit and vegies from the road-side stalls on the way to Waipatiki Beach and in Hastings.
Delectable snapper, scallops and mussels from the wholesale seafood coop – a lovely bike ride around the Port to West Quay. We had takeaway and returned regularly to buy for our nightly BBQs.
The nectarines, apples and fresh bread from the Saturday farmer's market never lasted long.
And the wine – did I mention the wine? Buttery chardonnay, pinot grigio and pinot noir…..
Did you learn anything about yourself or the world on this trip?
The value of creating spa_____ace (as per the image) in your body, your life, your routine. I reckon I learnt something about stillness, acceptance, contentment and to try to be 'not so speedy' from the combination of yoga, Napier and staying in one place. I'm constantly learning about myself and the world in yoga, but there's just not enough room in this blog to even start on that.
Would you recommend others travel here? Why
Absolutely! If you can't stay for as long as I did, certainly try to stay for four or five days.
Because it's a lovely taste of NZ. You can experience so much of the diversity of NZ from the one base of Napier. It feels like a regional town, with the buzz and sophistication of a larger city. Worth the art deco alone, but you can do and see so much more. On a bike, by foot, by bus or hire car. Beaches, hilly walks, vineyards, fun drives in manual cars (got to be a manual) on long, windy roads. Or you can just stay in Napier and walk around everyday to find some new part of town, some new aspect of the art deco story, the town's history or culture.
Do you have any tips for people thinking of travelling here?
Have lunch at Clearview Winery. We were all delighted with our food and wine and the atmosphere was cosy, service excellent and wine tasting fun.
Go to one of the roadside fresh fruit stalls hungry so you can indulge in a fresh fruit ice cream. A NZ invention I believe.
Do the longer art deco walking tour. It's worth it. Do stay to watch the film after – it's not twee or daggy. The volunteer guides are fonts of knowledge.
Visit the botanic gardens and the cemetery. Take a picnic. Everyone else seems to be by the water.
Hire a bike from Fish Bikes – great selection of decent bikes, they'll negotiate the price for longer hires and they're a good crew too.
Walk up to and around Bluff Hill. Let yourself get lost – all roads end at the Port.
Ride to West Quay by the Port – you don't need to ride over Bluff Hill (a toughie on a limited gear step through bike).
Drink coffee at Georgia's on Tennyson, the Hapi on Hastings St. I tried most of the cafes and these two were the best. One other café has AllPress coffee, but the skill is in the barita, isn't it?
Our friends went to see the gannets at Cape Kidnappers on tractors at sunset. Apparently a 'very kiwi thing to do'. On my list for next time.
Fresh seafood and fish n chips from Hawk's Bay Seafood in West Quay. A local told us to go somewhere else but my taxi driver reckoned our choice had a bigger selection and more turnover, so always fresh. We were happy.
Do spend time in the HUGE supermarkets. Sounds boring, but the selection of wine, nuts and pulses on offer was staggering. We got our organic muesli there for about 1/3 of the price in the organic store in town – same brand.
Quotidian, but get a key and use the laundromat. Another NZ innovation that's coming to Australia soon.
If you like gin, seek out one local brew called Juno, from, aptly enough, New Plymouth. This was the best thing we had at the Gin Trap, but I'd stop there in terms of drinks or food.
We had mixed dining experiences – we just loved our home BBQs. Suited our budget and our lifestyle. However, we enjoyed good meals or takeaway from Rasoi Cuisine Of India, Kilim & Thai Hutt – we missed out on trying Hunger Monger, which we heard good things about. Brekki at Chantal's was great, but have your coffee around the corner at Georgia's.
Been somewhere recently? We'd love to hear about it. Drop us a line at allabroadau(@)gmail.com.
Join AllAbroadAU on Facebook, Twitter and Instagram for more travel chatter.